This ist a nice a quick breakfast. It looks great and tastes delicious. By making your own granola you know exactly what is in it. In this granola you find great ingredients to boost your health and energy. If you like you can make the granola in advance, but it is not necessary, as it is really quick and not complicated.
Let me know how you like the recipe!
3 tablespoons chia seeds
1/3 cup almonds, finelly chopped
8 tablespoons millet flakes
1 cup coconut water (unsweetened)
1 tablespoons native coconut oil
4 tablespoons desiccated coconut
1,5 cup raspberries
1,5 cup blueberries
2 tablespoons maple sirup
7 mint leaves, chopped finely
14 oz (400 g) soy yogurt
1 tablespoon native flaxseed oil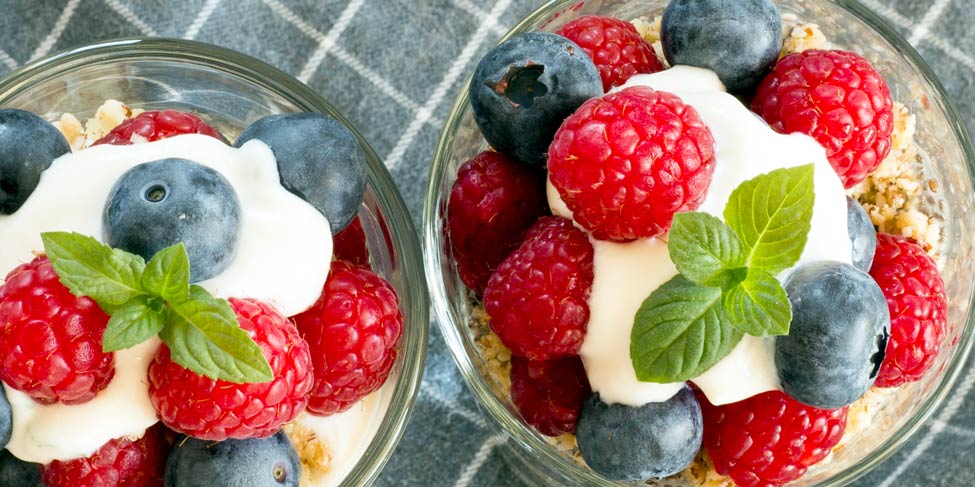 SOAK THE CHIA SEEDS 
Place the chia seeds in a bowl and soak them in coconut water. Mix ell and leave to stand for 10 minutes. Then mix again, cover and let stand for 12 hours or over night in fridge.
GET THE GRANOLA READY
Warm the coconut oil in a pan. Add desiccated coconut, millet flakes and chopped almonds and fry for 5 minutes on middle heat, stirring occasionally.
Add the maple sirup, mix well and fry for 1 minute while stirring. Turn the heat off and let cool down.
PREPARE THE SOY YOGURT
Add flaxseed oil and finely chopped mint leaves to the soy yogurt and mix well.
ARRANGE THE INGREDIENTS INTO THE GLASSES
Alternate layers of soy yogurt, soaked chia seeds, granola and berries.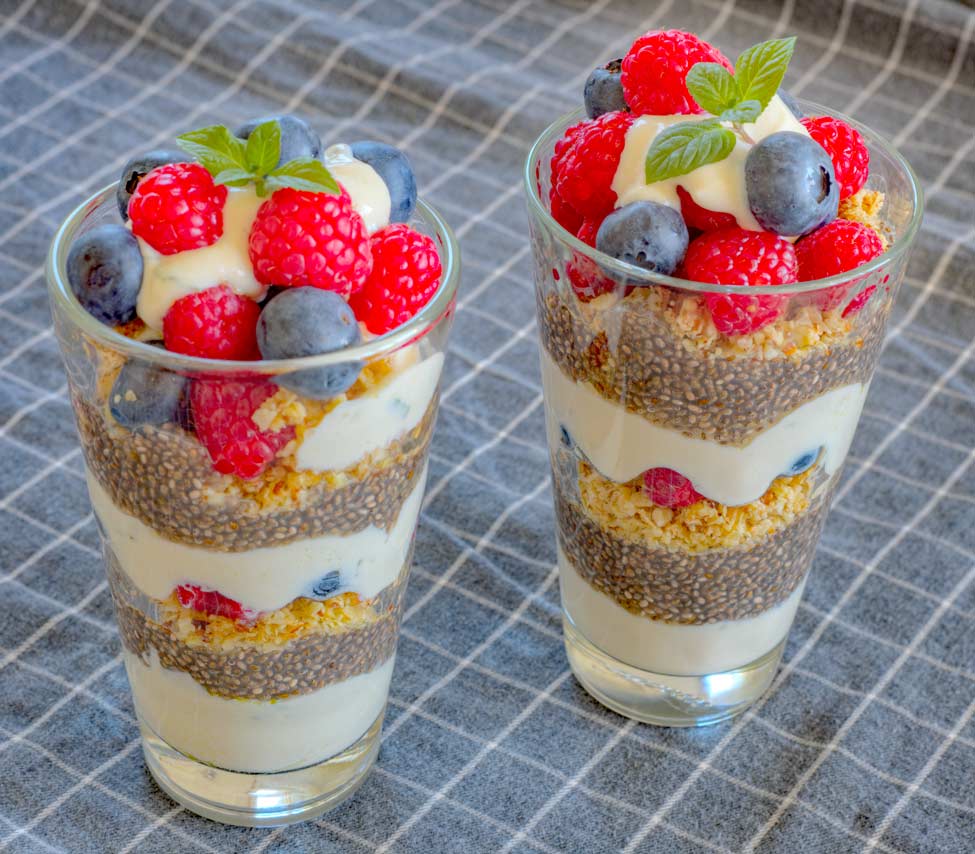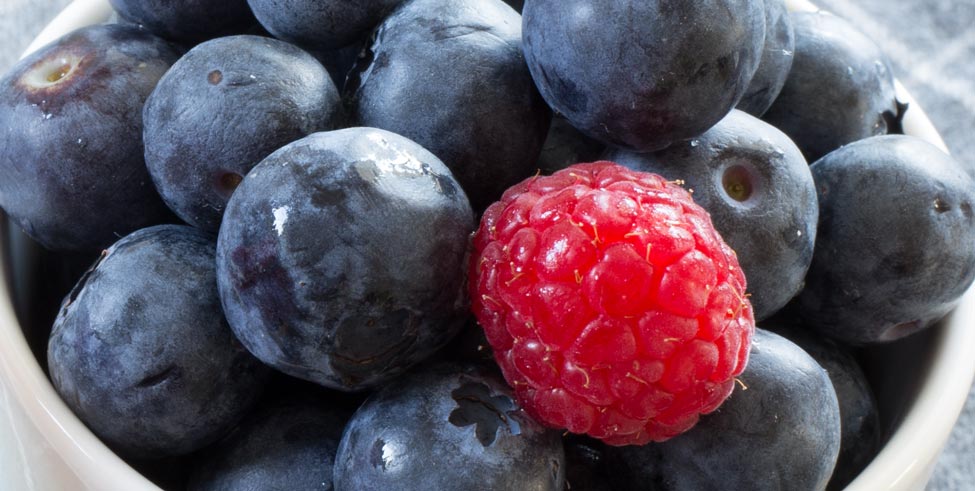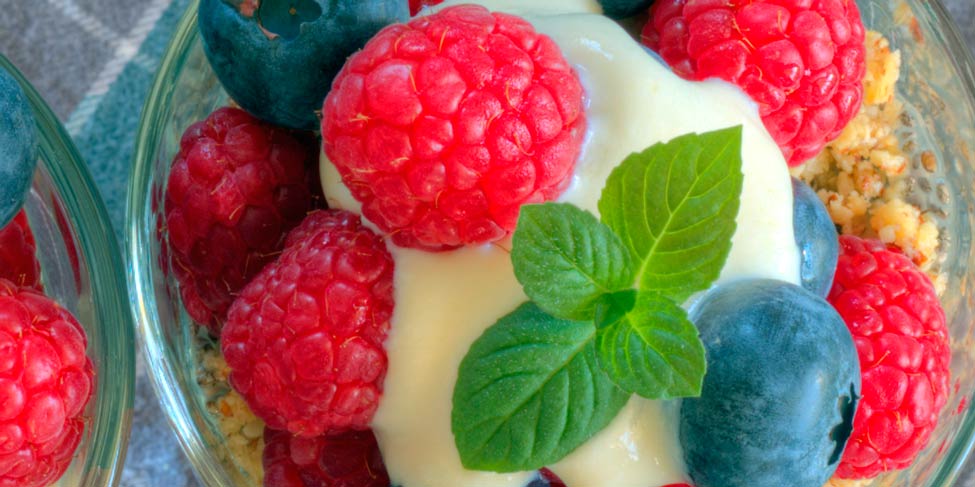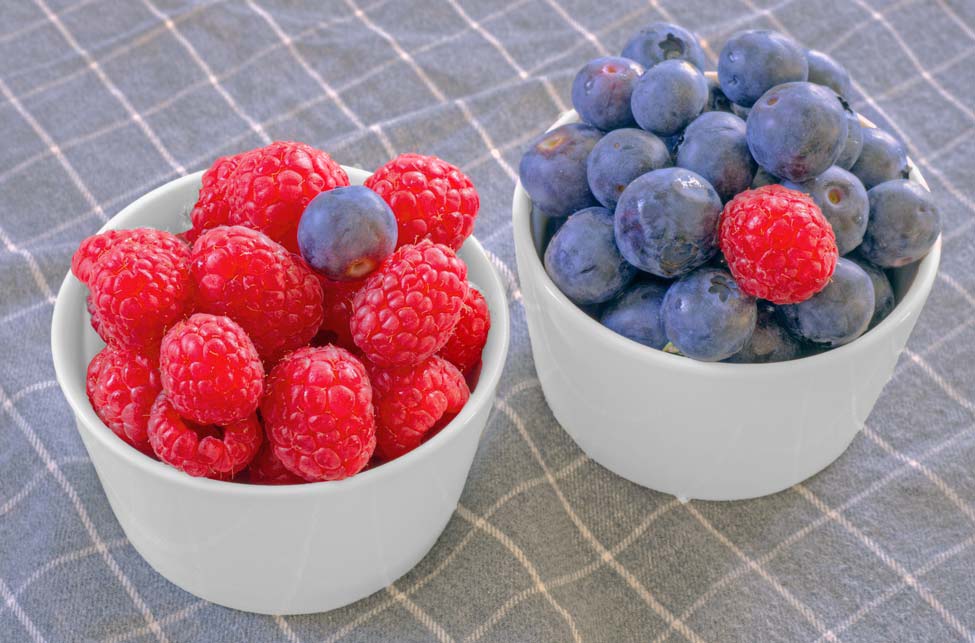 GOOD FOR YOUR HEALTH
Raspberries and blueberries are very healthy. We should be eating them quite often so that we can enjoy the positive effects they have on our health.
Here are just some benefits of eating these berries:
anti-cancer benefits
lower oxidative stress
reduce inflamation
decrease ethe risk of obesity, diabetes an dheart desease
promote encreased energy and overall lower weight
help to improve memory